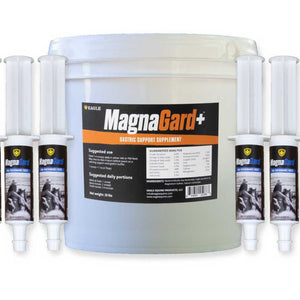 great stuff !
great company, and great product. Keep it with me always
Love it
Both horses feel and look great.
Fantastic Product
Love this product!! I use the magna guard plus daily for my 14 year old eventer! It keeps his gut healthy and happy! I also never travel without the magna guard paste! Keeps him calm and his tummy happy! I have traveled with abs without the paste and I can tell a difference!
MagnaGard Plus
I have been using MagnaGard Plus daily, on all of my performance/rodeo/cutting horses, for about a year now. I travel a lot to compete and depend on the paste to keep their gut happy and hydrated! A must have in my daily feeding program! ~Gracie-Beth Sutton
Good products
These products keep my horses nice and calm. They help two of my mares from getting ulcers. I recommend these products