Eagle Equine Products
Regular price
$139.99 USD
Regular price
Sale price
$139.99 USD
Unit price
per
Sale
Sold out
The MagnaGard Plus Mega Bundle includes a 20 lb bucket of MagnaGard PLUS (5 month supply) and SIX tubes of MagnaGard Pre-Performance Paste.
MagnaGard Pre-Performance Paste helps keep horses calm and performing well when trailering or competing. It provides gastric support and helps keep their tummies happy.
Calms stressed horses
Soothes gastric discomfort
Provides vital electrolytes
All natural, show safe
Perfect to use before trailering, showing, or other stressful situations
"This has been a miracle on my nervous, fretful, high energy gelding. I won't go to a horse show without it." -Amazon Customer
"I have a couple of horses that act up for the farrier. Just gave a tube about 1 hour prior to trimming. Horse was totally calm." -Barbara
MagnaGard Plus Gastric Support & Omega 3s is a daily powder supplement for horses. Ulcers are formed by excess acid buildup in the stomach. MagnaGard lines the stomach, acting as a buffer and allows ulcers to heal naturally. Which means your horse can get back to feeling good again.
What's the difference between MagnaGard and MagnaGard Plus?
MagnaGard Plus has camelina oil added to it, which provides a number of benefits to horses including:
Provides essential fatty acids and a 2:1:1 ratio of omega-3, omega-1, and omega-9
Provides important antioxidants including vitamin E
Improves coat sheen
Improves bone structure
Provides additional ulcer relief and prevention
Acts as an anti-inflammatory
"MagnaGard really helped my nervous and hard keeper mare to become a WINNER!" -Trinna
"I'm very impressed so far and this product is way cheaper than Omeprazole." -Audrey
-------
MagnaGard Paste Ingredients and Mineral Analysis
Water, montmorillonite clay (bentonite), salt, peppermint essential oil
Guaranteed Analysis
Calcium: 4.0-5.0%
Salt: 2.5-3.5%
Magnesium: 0.8%
Potassium: 0.7%
Sulphur: .08%
Phosphorus: .07%
Carbon: 2.1%
Iron: .39%
Manganese: .04%
Copper: .002%
MagnaGard PLUS Ingredients and Mineral Analysis
Guaranteed Analysis
Calcium: 4.5-5.5%
Salt: 2.5-3.5%
Magnesium: 1.3%
Potassium: 0.7%
Sulphur: .08%
Phosphorus: .07%
Carbon: 2.1%
Iron: .39%
Manganese: .04%
Copper: .002%
Crude Fat: 4.0%
Omega-3 Fatty Acids: 2.0%
Omega-6 Fatty Acids: 1.0%
Amount per scoop
Calcium: 1,400 mg
Salt: 980 mg
Magnesium: 224 mg
Potassium: 196 mg
Phosphorus: 110 mg
Copper: 2 mg
Iron: 109 mg
Sulphur: 24 mg
Carbon: 588 mg
Manganese: 11 mg
Share
View full details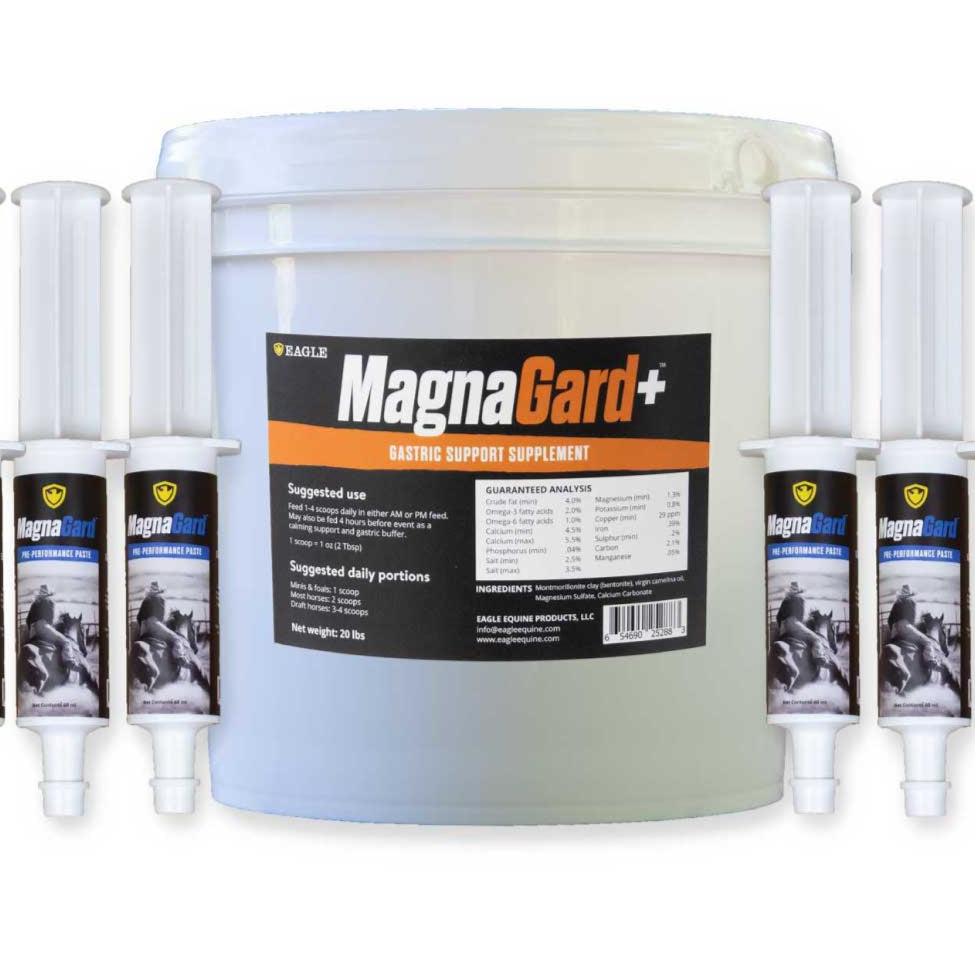 great stuff !
great company, and great product. Keep it with me always
Love it
Both horses feel and look great.
Fantastic Product
Love this product!! I use the magna guard plus daily for my 14 year old eventer! It keeps his gut healthy and happy! I also never travel without the magna guard paste! Keeps him calm and his tummy happy! I have traveled with abs without the paste and I can tell a difference!
MagnaGard Plus
I have been using MagnaGard Plus daily, on all of my performance/rodeo/cutting horses, for about a year now. I travel a lot to compete and depend on the paste to keep their gut happy and hydrated! A must have in my daily feeding program! ~Gracie-Beth Sutton
Good products
These products keep my horses nice and calm. They help two of my mares from getting ulcers. I recommend these products