Eagle Equine Products
Regular price
$450.00 USD
Regular price
$500.00 USD
Sale price
$450.00 USD
Unit price
per
Sale
Sold out
( ☝️click on quantity and save ☝️)
Calms stressed horses
Soothes gastric discomfort
Provides vital electrolytes
All natural ingredients
Perfect to use before trailering, showing, or other stressful situations
MagnaGard Pre-Performance Paste is perfect for use before trailering, competing, riding, or when your horse has minor digestive issues/colic.
The Paste contains natural ingredients and provides many essential trace minerals including calcium and magnesium. The paste also contains peppermint essential oil, which has natural properties that help relieve digestive issues.
Excellent source of Magnesium and other important trace minerals. Magnesium is a natural calmer and helps reduce stress in horses.
Provides vital electrolytes that are crucial to ensure your horse's muscles are functioning at optimum levels. Calcium, sodium, chloride, potassium, magnesium, and phosphate are all found in MagnaGard Pre-Performance Paste.
Customer Reviews (view more at bottom of page)
"My gelding has been suffering from ulcers off and in for years. This is the first over the counter paste that has made a difference! I give him the paste 1 1/2 hours before trailering, or practicing the barrel pattern and shockingly he was calm, level headed, and you could tell he wanted to work! It's a great feeling when your animal is finally comfortable and wanting to do his job!" -Mariah
"I have a horse who gets ulcers very easily and has to be on medication whenever he travels, which is often since he's a show horse. When he has MagnaGard Paste the morning before travel he seems much more relaxed and I can tell his stomach is soothed." -Kacie
"I have a couple of horses that act up for the farrier. I gave a tube of MagnaGard Paste about 1 hour prior to trimming. Horse was totally calm." -Barbara
Suggested use
Remove cap and place tip of syringe between the tongue and the side of the mouth. Press the plunger and squeeze the paste into the mouth.
Give 15-60 before trailering, competing, or before or during any stressful situation. The effects last about 12 hours. 
Dose: Full tube for most horses. Half tube for minis and foals.
Guaranteed Analysis
Calcium: 4.0-5.0%
Salt: 2.5-3.5%
Magnesium: 0.8%
Potassium: 0.7%
Sulphur: .08%
Phosphorus: .07%
Carbon: 2.1%
Iron: .39%
Manganese: .04%
Copper: .002%

Ingredients
Water, montmorillonite clay (bentonite), salt, peppermint essential oil
100% Money-Back Guarantee - If you aren't satisfied for any reason, contact us for a full refund.
FREE shipping on orders over $40. $5 flat rate on all other orders inside the contiguous United States.
Frequently Asked Questions
How long before the event or trailering should the paste be administered? 15-60 minutes is our recommendation. 
How long is it effective? The effects last about 12 hours.
Can I give MagnaGard Paste and MagnaGard powder together? Yes. However, our recommendation is that you give them at separate feedings or just skip the powder on days you administer the paste. 
Looking to bundle MagnaGard Paste with MagnaGard daily powder supplement? Check out these great deals:
Share
View full details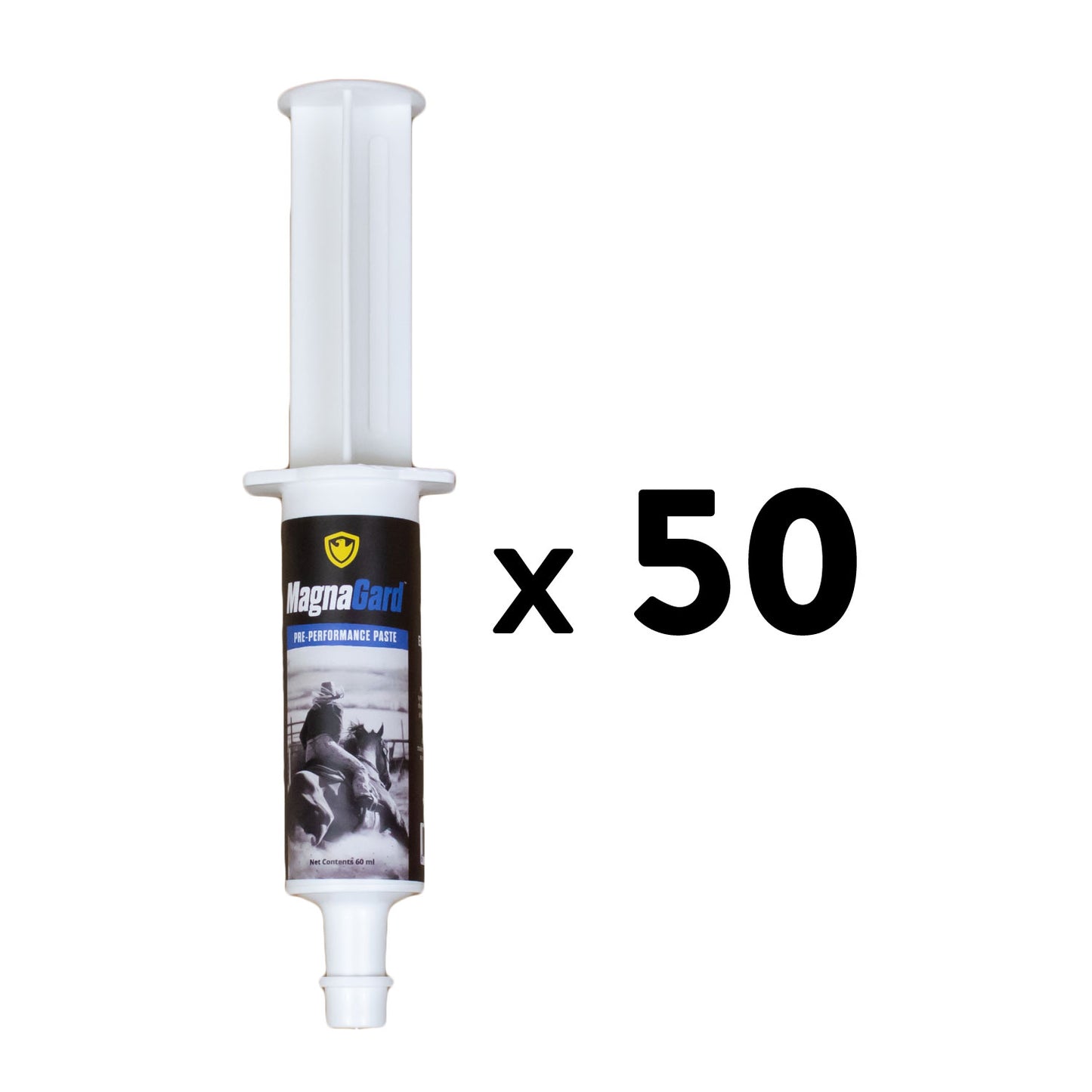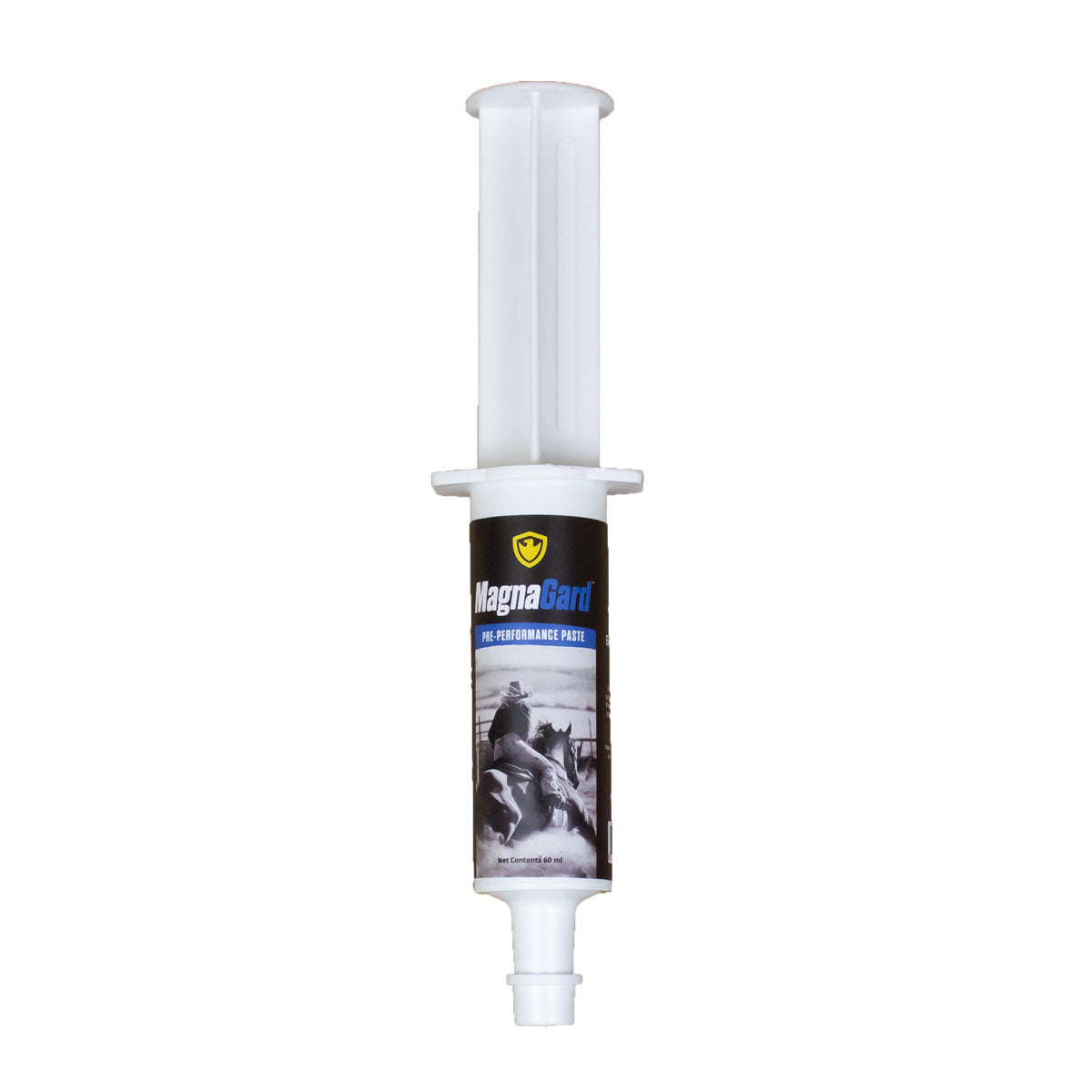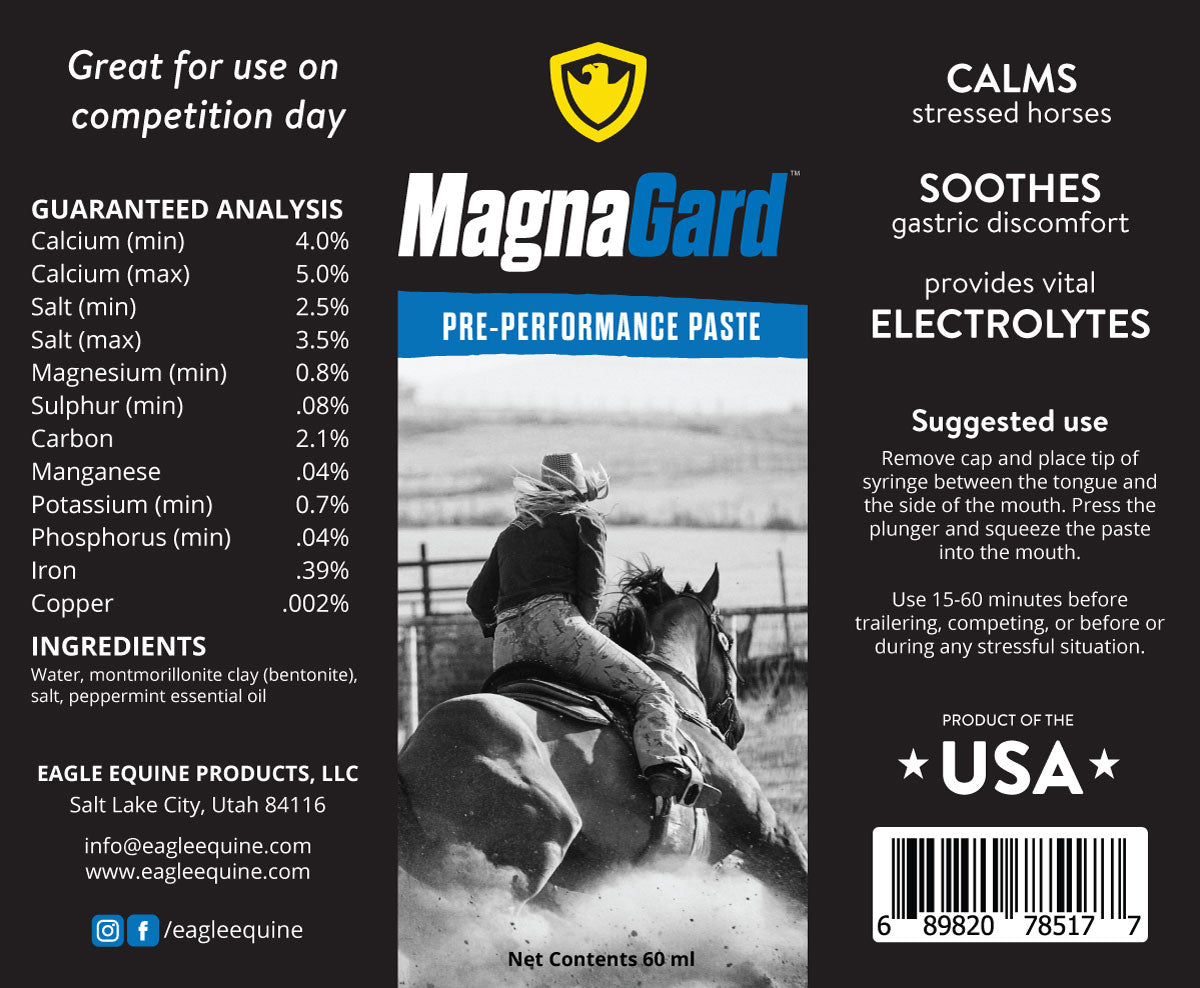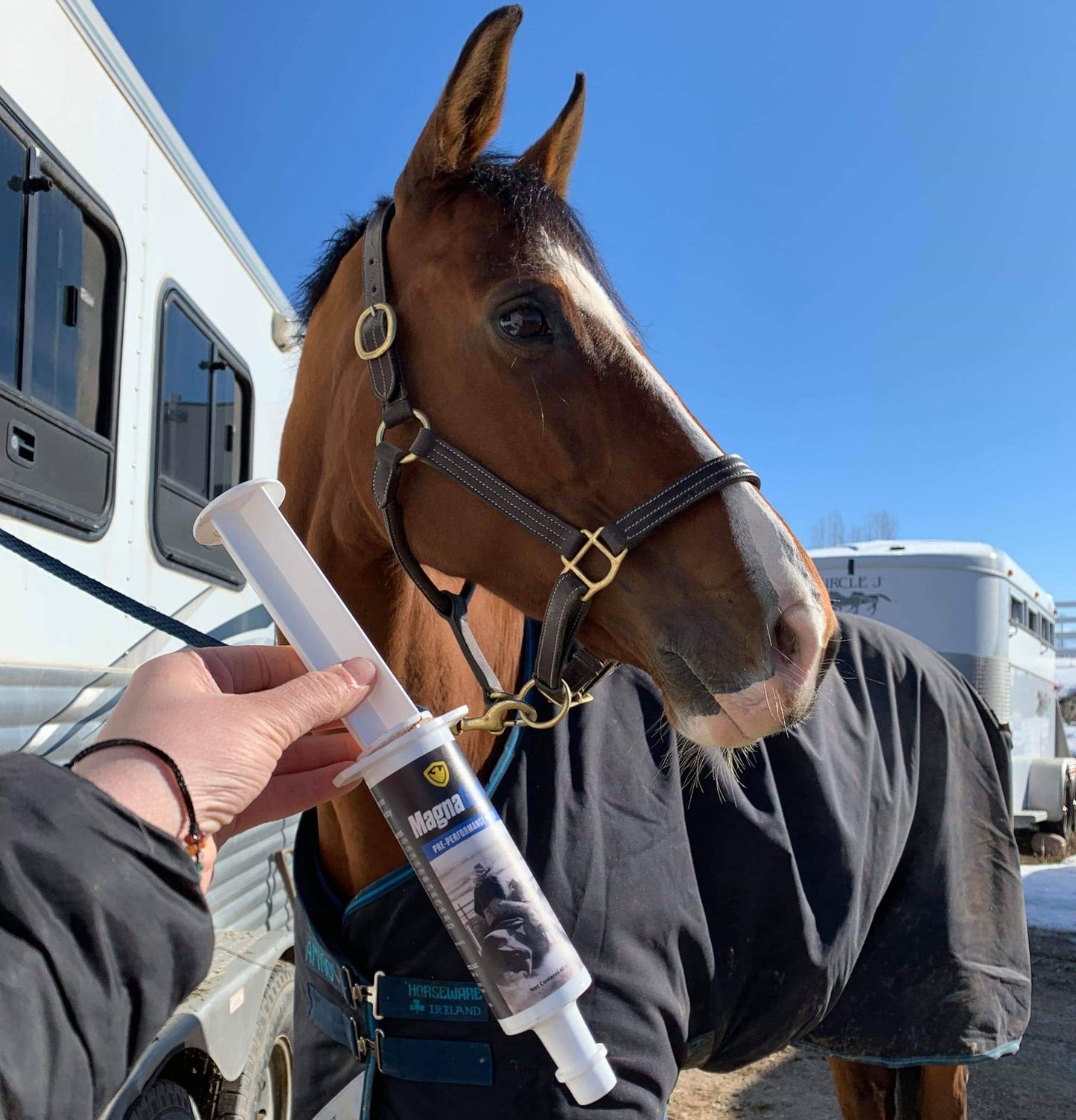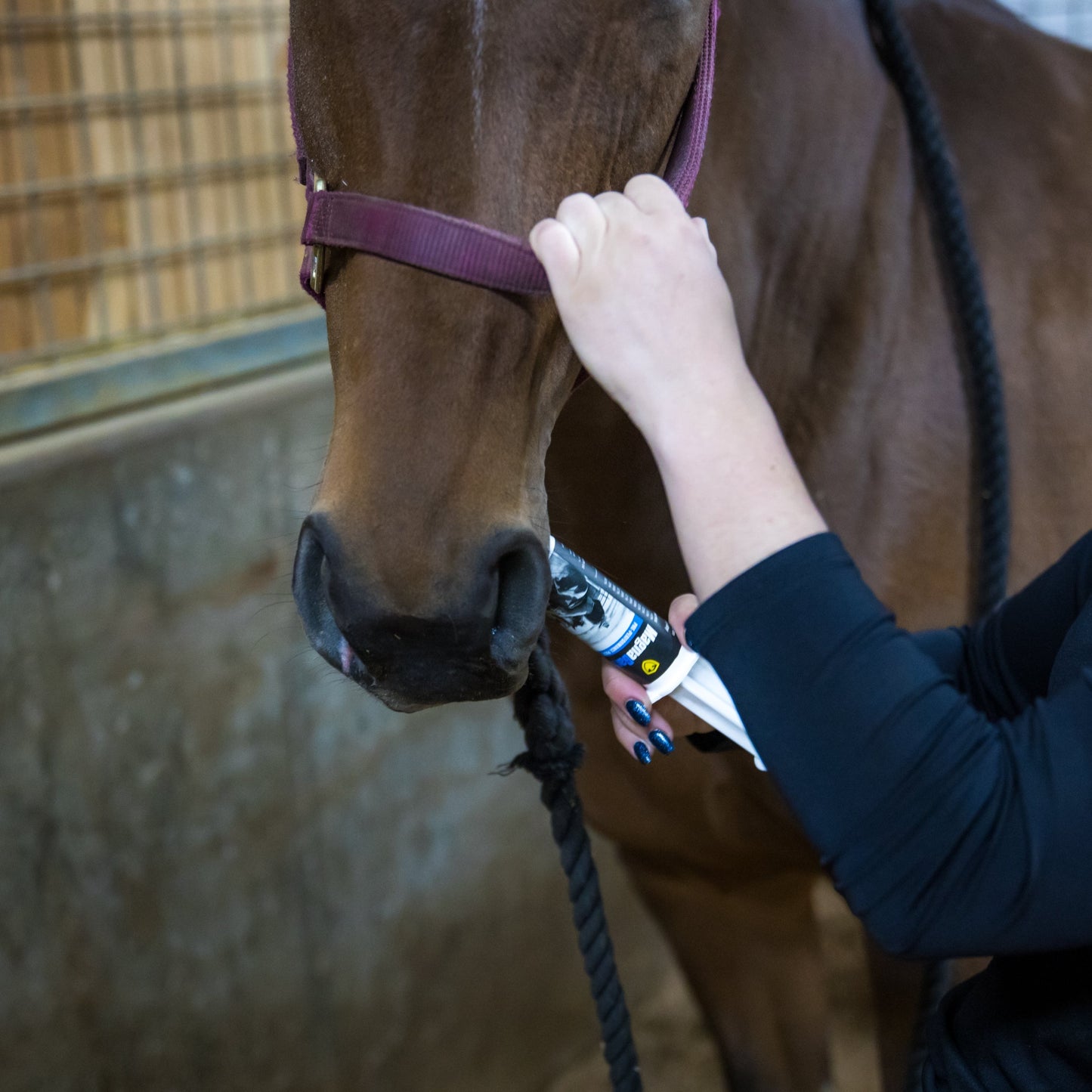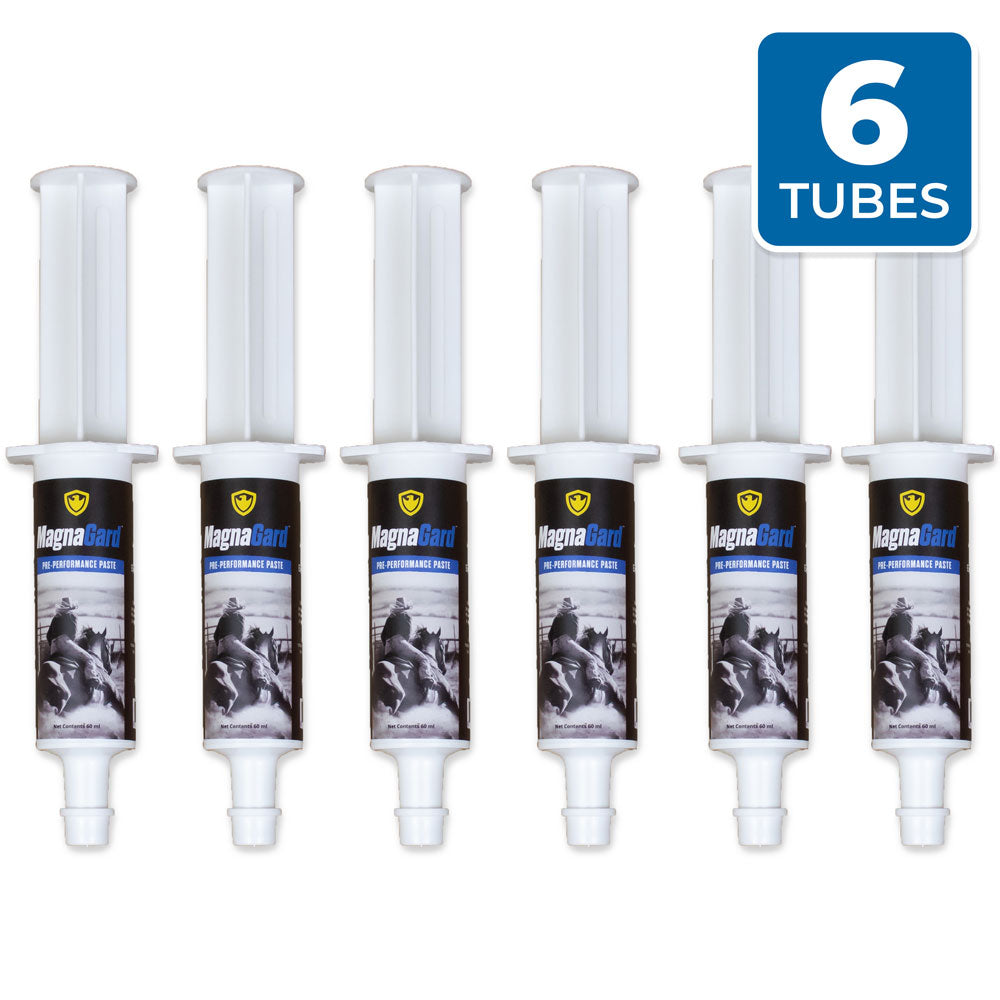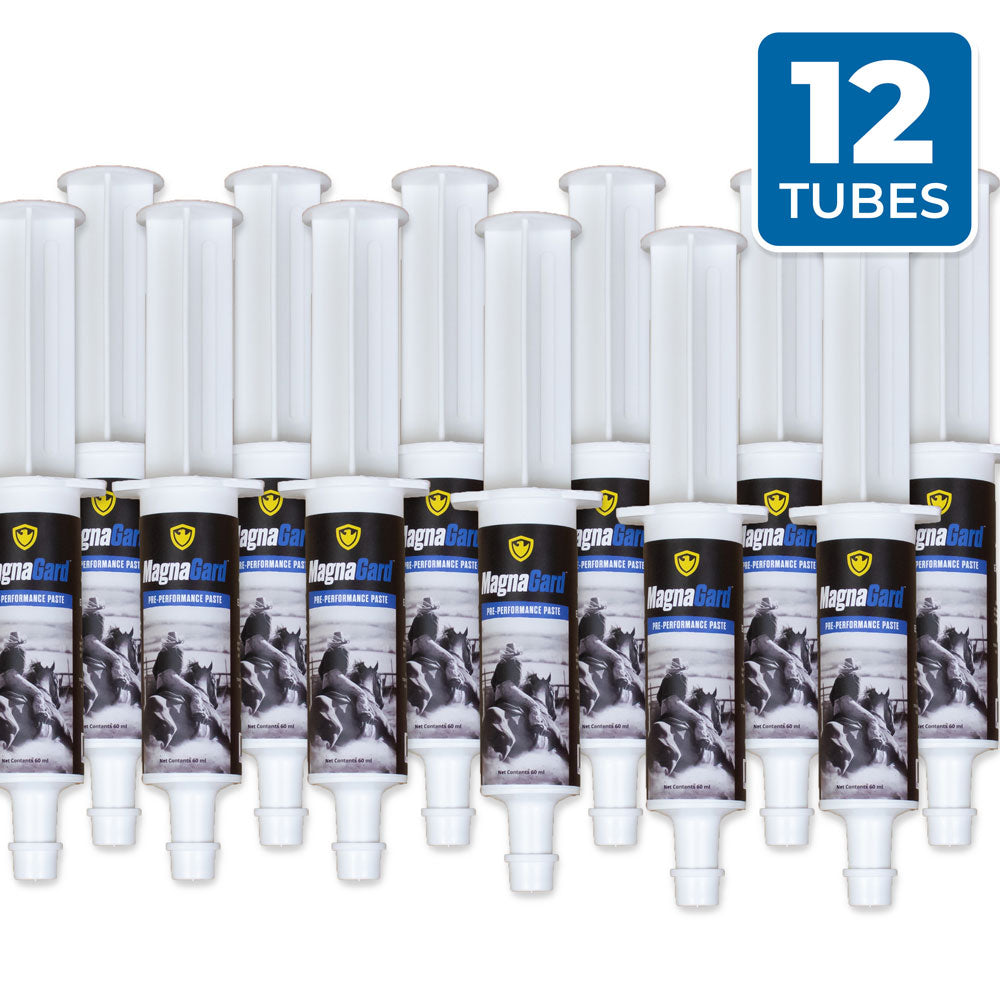 It works!!
This paste seriously works! Better than perfect prep, smells better, they don't spit it back out at you and the effect seems better on their body
Love the Magnagard Calming Paste
This is the most amazing product. I use the calming paste on my mare and she loves it and so do I. She's focused and ready to do her job at the barrel races. We don't leave home without it!!
Love it!
Love this product for my OTTB! I use it before stressful events to take the edge off. I also use it in the winter when it gets too cold and in the summer when it's too hot and my horse doesn't drink, as well as when his poop comes out to dry. Love this product and try to have one in stock!
Love the product
Have referred many people to it
This product covers all of the bases
We use the pre performance paste for long trailer rides and long stays in unfamiliar stalls at 3-4 day shows. This keeps my horses eating and drinking. As we know keeping their tummy happy helps them focus on running and not stress from a long week of work. Relate to your horse. Try this product!