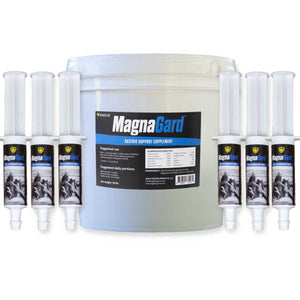 Best products and bang for your buck!!
Every horse in my barn is on some sort of Magna Gard product - we couldn't be more appreciative of these bundle options!
Awesome stuff
Works like a charm. And tasty too
Highly recommend pre-performance, trailer, any time you want to make sure they're comfy
Since my mare on magna guard she's calmer and no signs of ulcer issues anymore
Great product, great price!
I will never go without MagnaGard in my feed room again! I feel comfortable knowing my horses have gastric support in times of stress, it's a quality of life issue made simple. Loving the paste for hauling and clinics! Thanks Eagle products!