Eagle Equine Products
Regular price
$119.99 USD
Regular price
Sale price
$119.99 USD
Unit price
per
Sale
Sold out
The MagnaGard Mega Bundle comes with one 20 lb bucket of MagnaGard Powder (5 month supply) and SIX tubes of MagnaGard Pre-Performance Paste.
MagnaGard Pre-Performance Paste helps keep horses calm and performing well when trailering or competing. It provides gastric support and helps keep their tummies happy.
Calms stressed horses
Soothes gastric discomfort
Provides vital electrolytes
All natural, show safe
Perfect to use before trailering, showing, or other stressful situations
"This has been a miracle on my nervous, fretful, high energy gelding. I won't go to a horse show without it." -Amazon Customer
"I have a couple of horses that act up for the farrier. Just gave a tube about 1 hour prior to trimming. Horse was totally calm." -Barbara
MagnaGard Gastric Support is a daily powder supplement for horses. Ulcers are formed by excess acid buildup in the stomach. MagnaGard lines the stomach, acting as a buffer and allows ulcers to heal naturally. Which means your horse can get back to feeling good again.
Prevents gastric ulcers

Alkalizes gut, calms and soothes

Provides vital trace minerals like calcium and magnesium

All natural, show safe

1 bag = 1 month supply
"MagnaGard really helped my nervous and hard keeper mare to become a WINNER!" -Trinna
"I'm very impressed so far and this product is way cheaper than Omeprazole." -Audrey
-------
MagnaGard Paste Ingredients and Mineral Analysis
Water, montmorillonite clay (bentonite), salt, peppermint essential oil
Guaranteed Analysis
Calcium: 4.0-5.0%
Salt: 2.5-3.5%
Magnesium: 0.8%
Potassium: 0.7%
Sulphur: .08%
Phosphorus: .07%
Carbon: 2.1%
Iron: .39%
Manganese: .04%
Copper: .002%
MagnaGard Ingredients and Mineral Analysis
Ingredients: Montmorillonite clay (bentonite), Magnesium Sulfate, Calcium Carbonate 
Share
View full details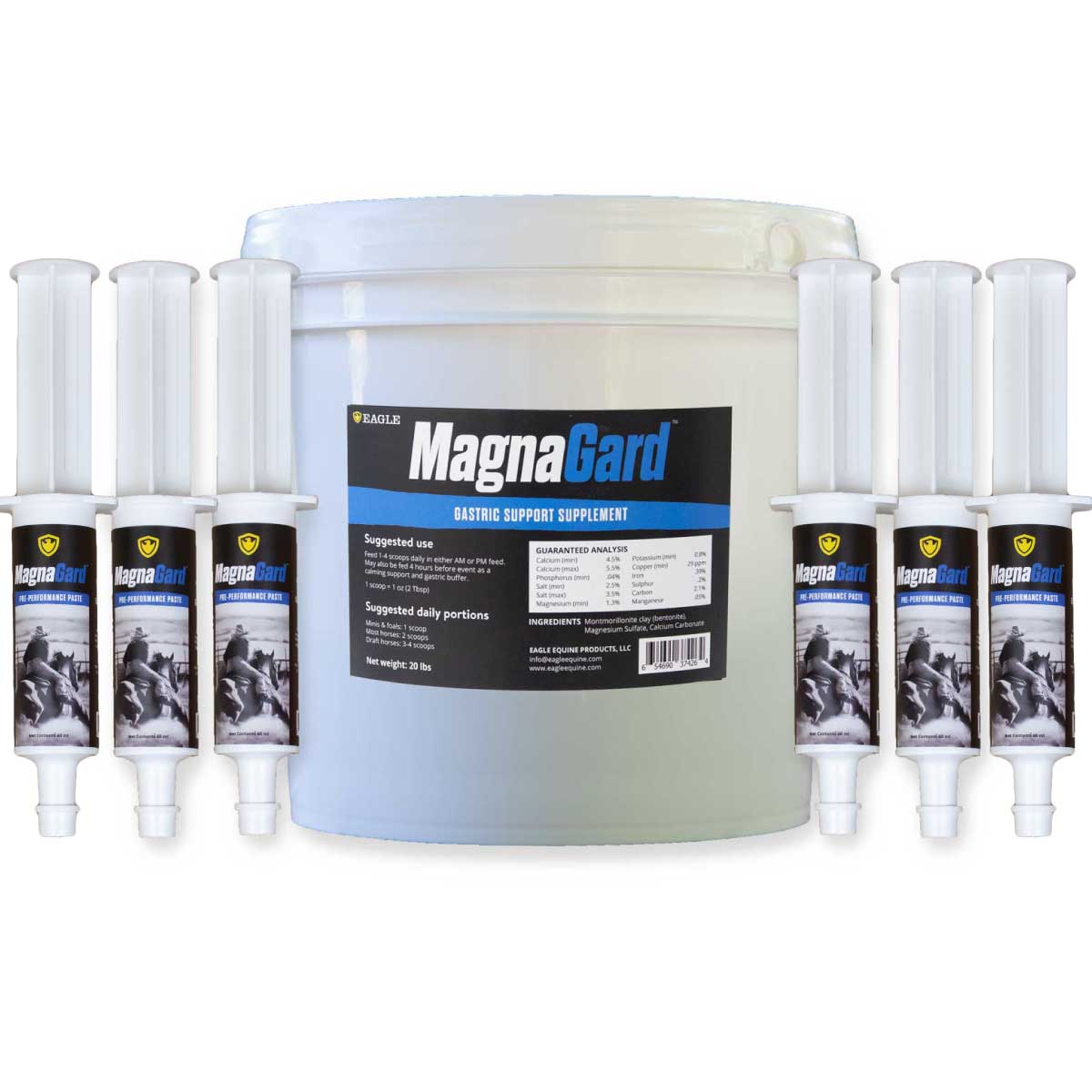 Best products and bang for your buck!!
Every horse in my barn is on some sort of Magna Gard product - we couldn't be more appreciative of these bundle options!
Awesome stuff
Works like a charm. And tasty too
Highly recommend pre-performance, trailer, any time you want to make sure they're comfy
Since my mare on magna guard she's calmer and no signs of ulcer issues anymore
Great product, great price!
I will never go without MagnaGard in my feed room again! I feel comfortable knowing my horses have gastric support in times of stress, it's a quality of life issue made simple. Loving the paste for hauling and clinics! Thanks Eagle products!