Eagle Equine Products
Regular price
$34.99 USD
Sale price
$32.99 USD
Unit price
per
Sale
Sold out
Includes: 6 lb bag of MagnaGard Gastric Support (50-day supply) and a 1 oz scoop.

 ✅ Helps ulcer-prone and colicky horses
 ✅ Naturally effective ingredients
 ✅ Veterinarian recommended
 ✅ Satisfaction Guarantee

Why try MagnaGard?
Your horse is cinchy, sensitive to the touch, or otherwise showing symptoms of ulcers
Your horse colics on a regular basis
Your horse has loose stool or diarrhea
You want a natural gut supplement that helps prevent these kinds of problems
MagnaGard provides prevention and relief!
Customer Reviews

"The high incidence of ulcers in racing and recently retired off track thoroughbreds and the effectiveness of MagnaGard in treating them makes it a good match. It's certainly helped my three OTTB's!" -Sandy
"I have nine horses on this product. I have noticed a significant change in their hair coat, and attitude while training. They are calmer, and are getting more out of their food. The greatest change is that in one month their ulcers are healing." -Nichole
"My mare is prone to ulcers and I have found this product to help keep her tummy happy. I love knowing she's getting all the extra minerals 
in her diet. She holding on to weight great." -Allie
Signs your horse might have ulcers
Cinchy/girthy

Change in attitude

Dull coat

Cribbing

Loss of appetite / hard keeper
MagnaGard stops ulcers in their tracks and keeps your horse's gut healthy and happy.
MagnaGard is an excellent source of magnesium and other important trace minerals. Magnesium is a natural calmer and helps reduce stress in horses.
Suggested use
Feed 2 scoops daily (2 oz) in either AM or PM feed. May also be fed 4 hours before event as a calming support and gastric buffer.
Each pouch is a 50-day supply of MagnaGard.
Tips for picky eaters:
If your horse won't eat MagnaGard, try mixing it in the feed with a good amount of water. You can also try adding some flavor (apple sauce or aloe vera juice usually work well).
100% Money-Back Guarantee - If you aren't satisfied for any reason, contact us for a full refund.
Ingredients and Mineral Analysis
Ingredients: Bentonite, Magnesium Sulfate, Calcium Carbonate 
Bentonite – Created by ancient volcanic ash, it naturally contains more than 50 beneficial minerals and trace minerals. It's naturally alkaline with a pH around 9.0, is a known toxin binder, and helps promote a healthy gut.

Magnesium Sulfate – A natural calmer. Important for nerve and muscle health in horse.

Calcium Carbonate – Most horses aren't getting enough calcium in their diet. MagnaGard is a great source of calcium and helps ensure bone and muscle health, as well as proper enzyme regulation.
Amount per serving
Calcium: 2,520 mg
Salt: 1,400 mg
Magnesium: 728 mg
Potassium: 448 mg
Phosphorus: 220 mg
Copper: 2 mg
Iron: 218 mg
Sulphur: 112 mg
Carbon: 1,176 mg
Manganese: 28 mg
MagnaGard is a great source of electrolytes (from the bentonite). That combined with a good salt lick or loose mineral salt will cover you in that area.
MagnaGard is a great ulcer preventer. It has a high pH (around 9.0) so it's very alkaline and buffers acid, allowing ulcers to heal. 
MagnaGard is also a great source of magnesium, which is a natural calmer. We get a lot of feedback from customers about how MagnaGard has completely changed high-strung horses.
Share
View full details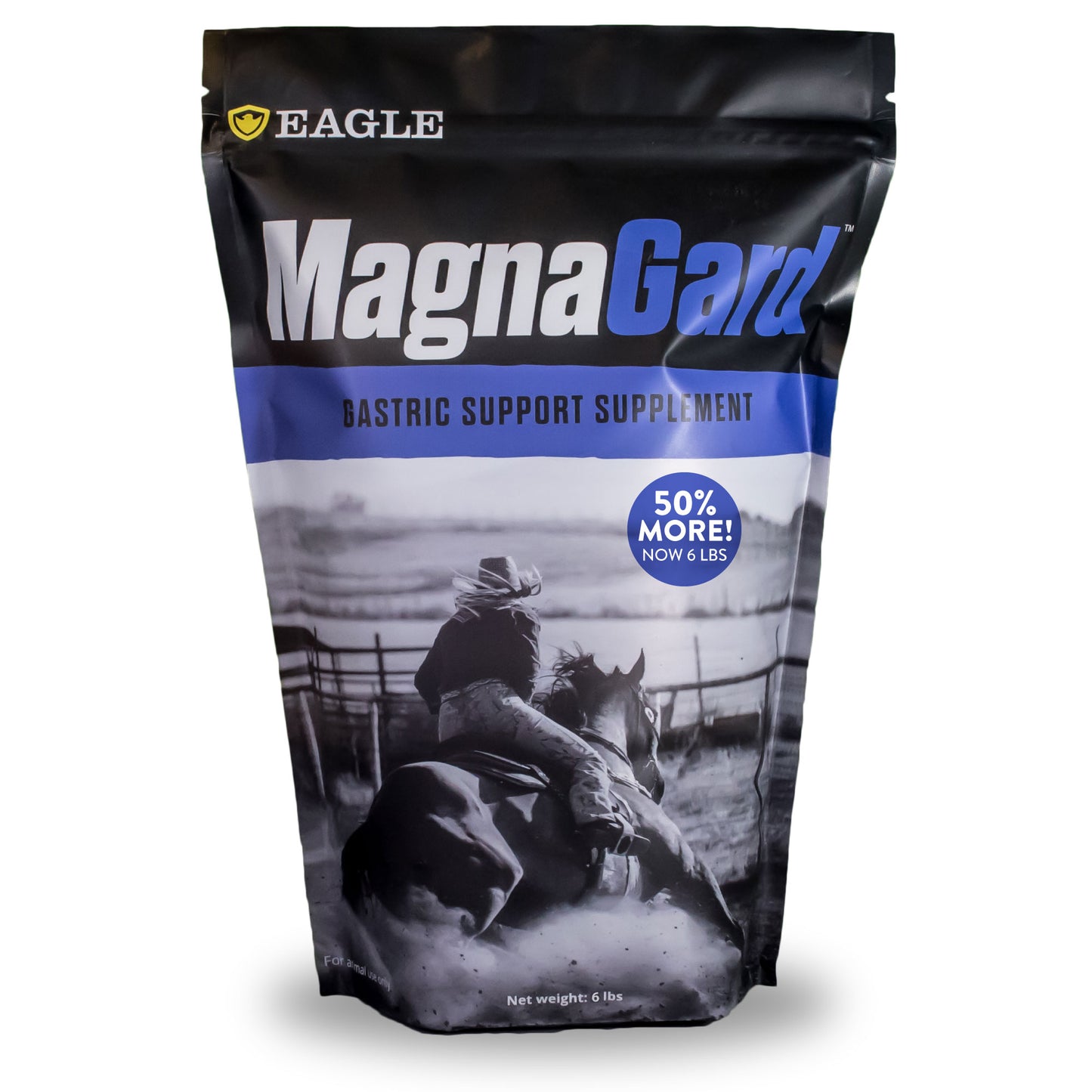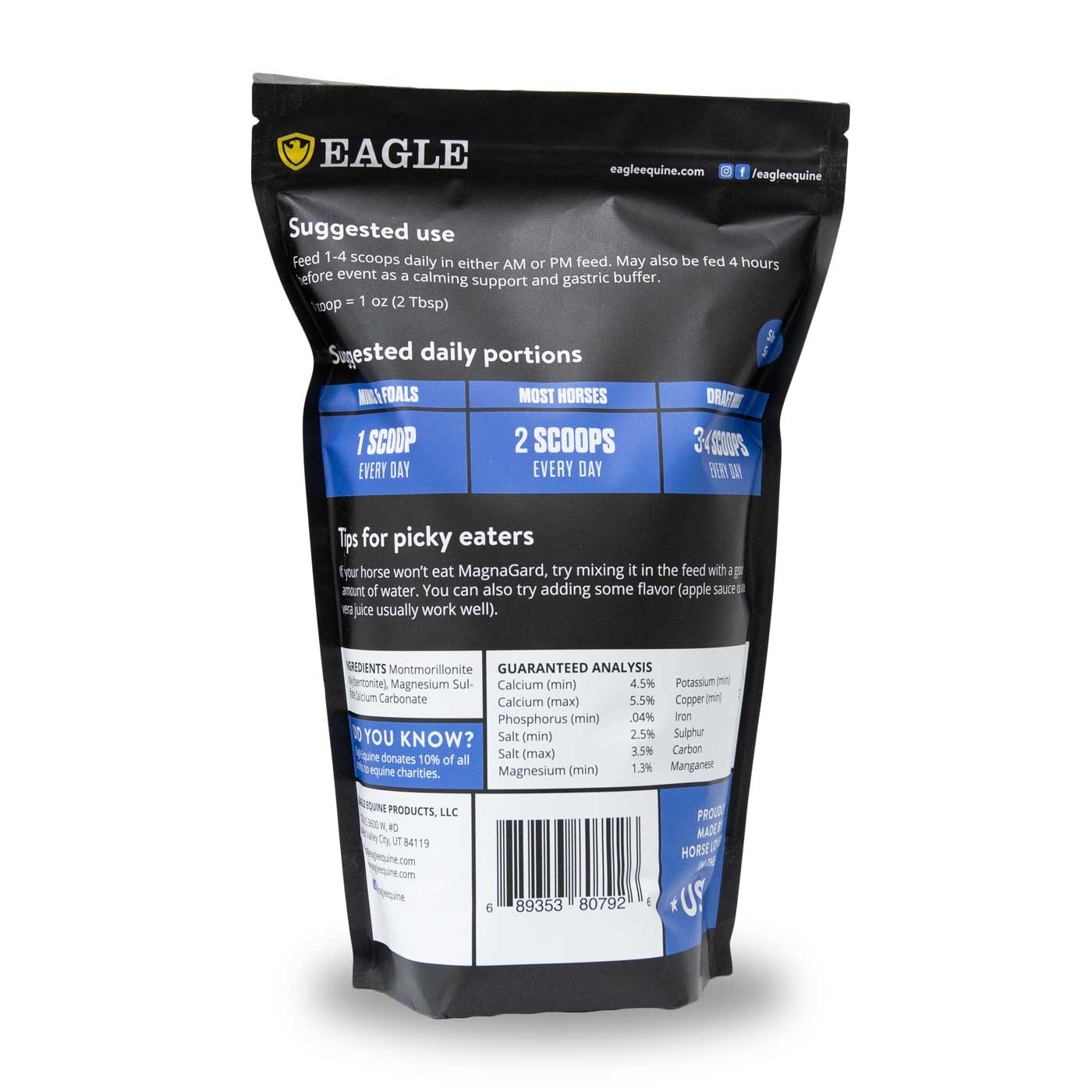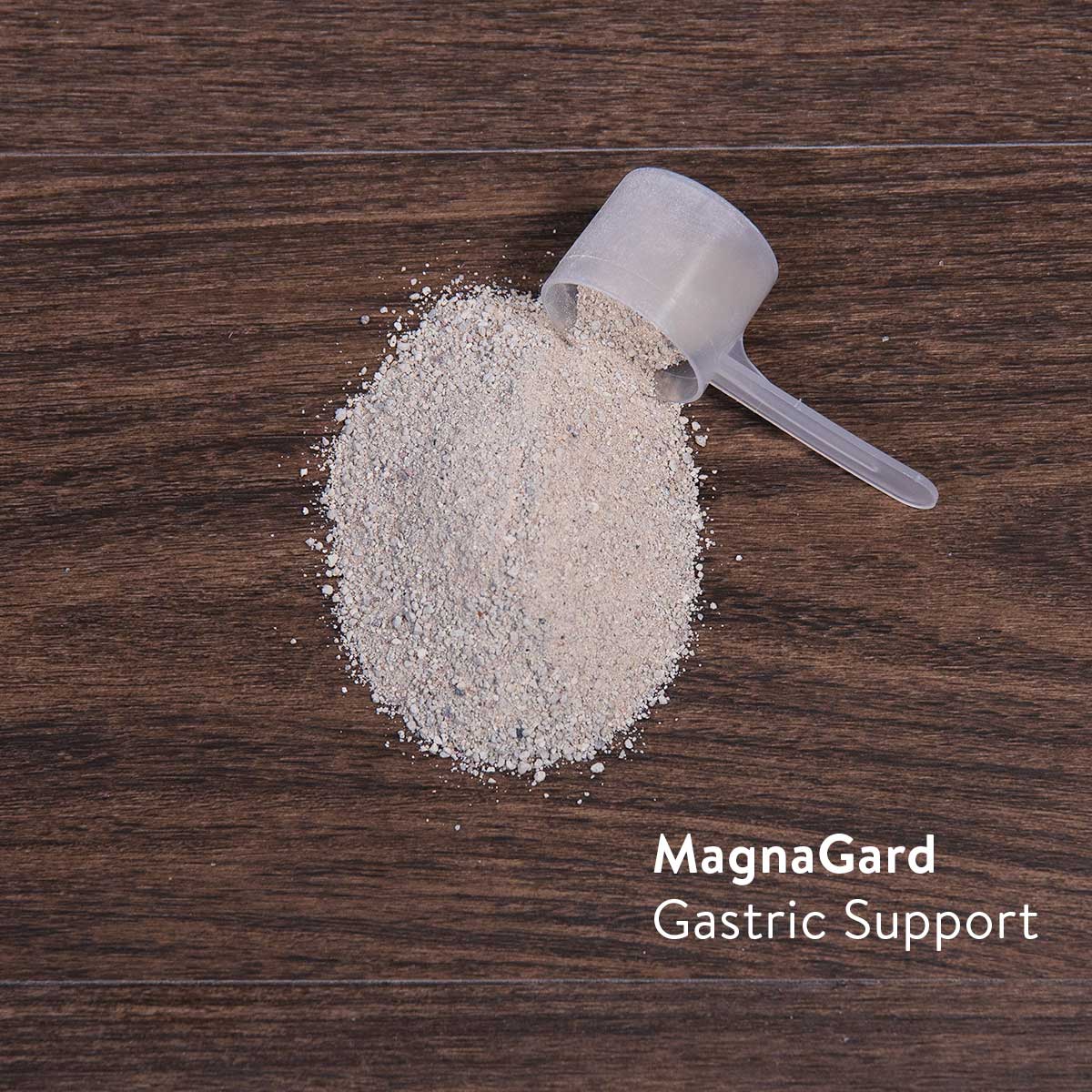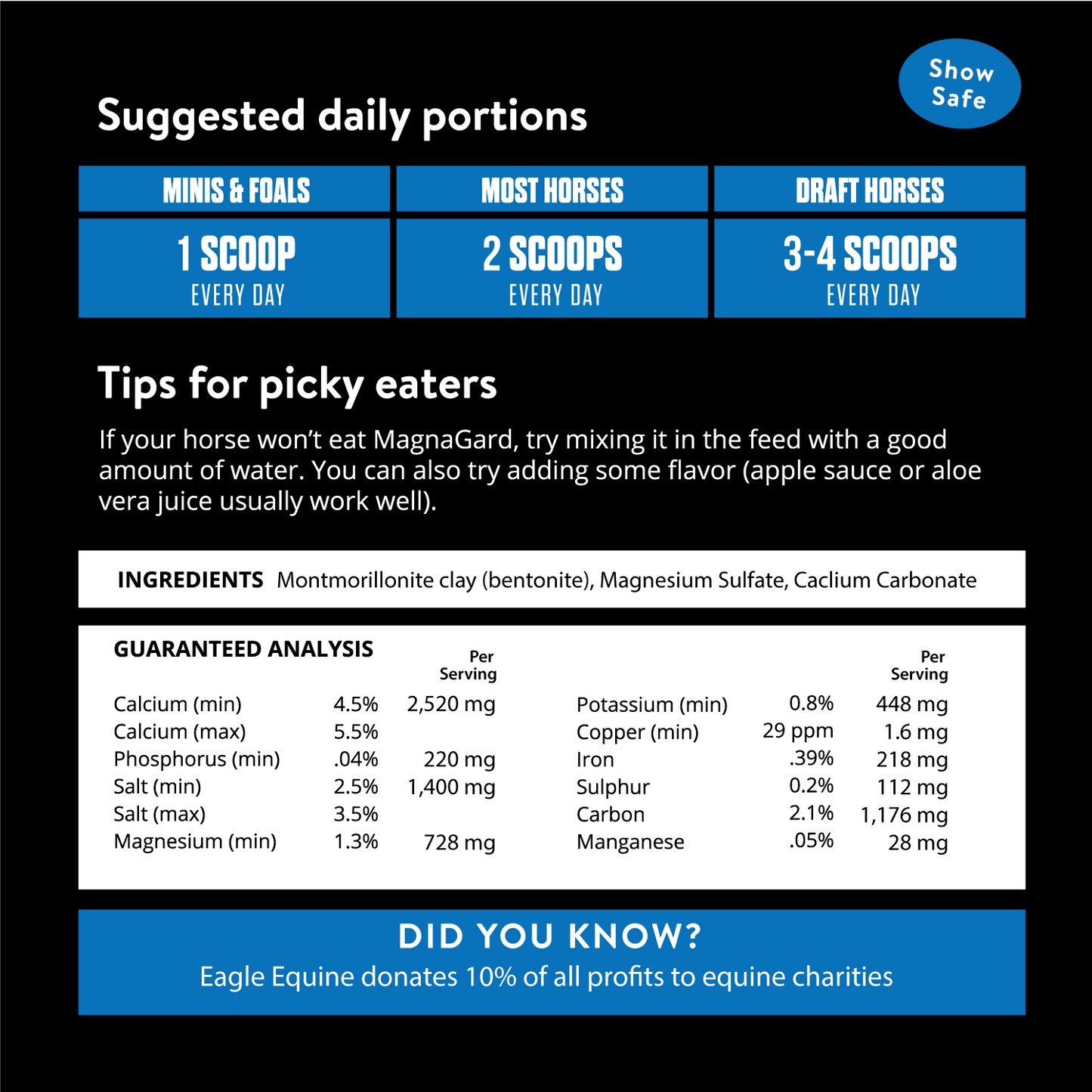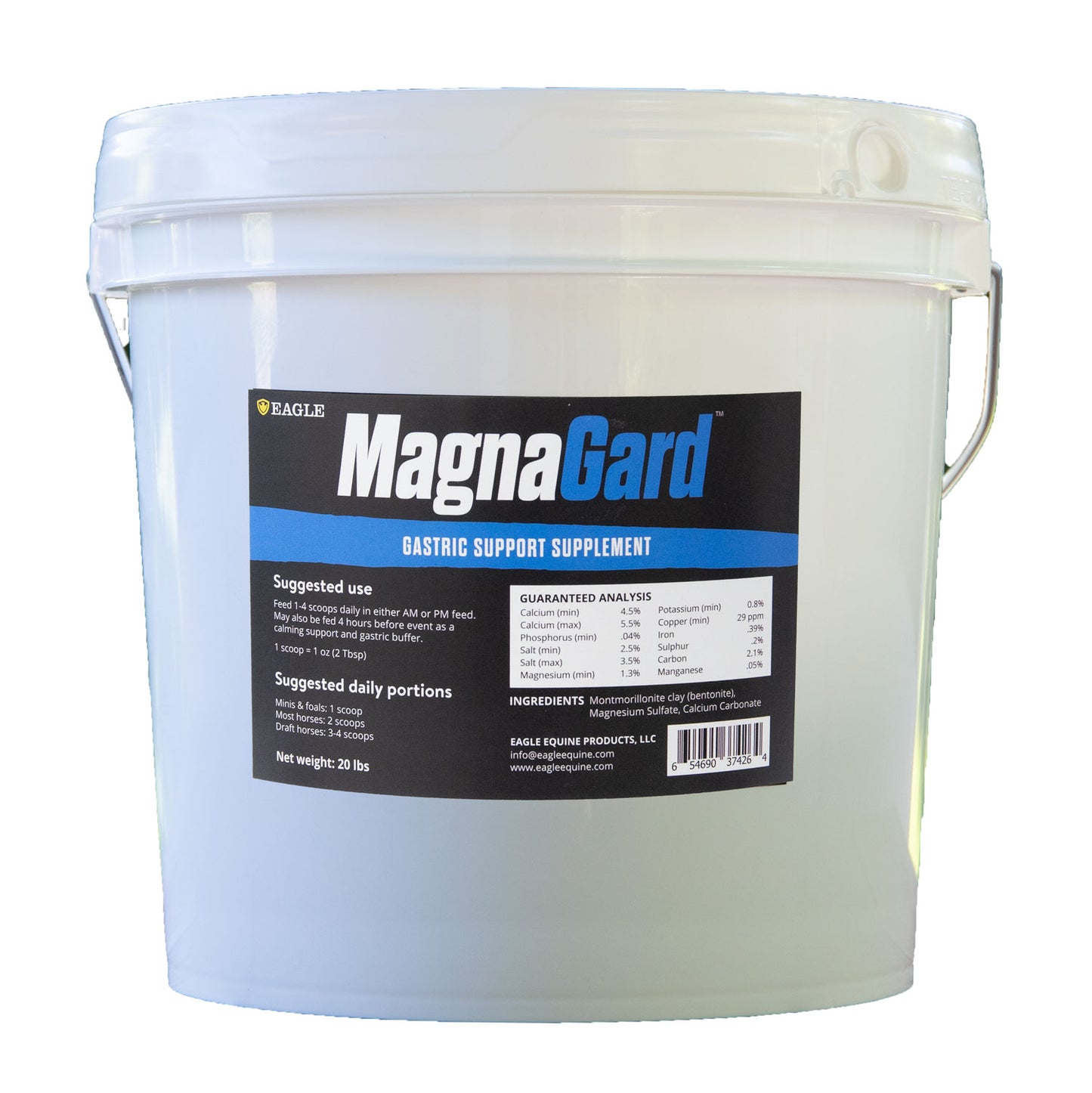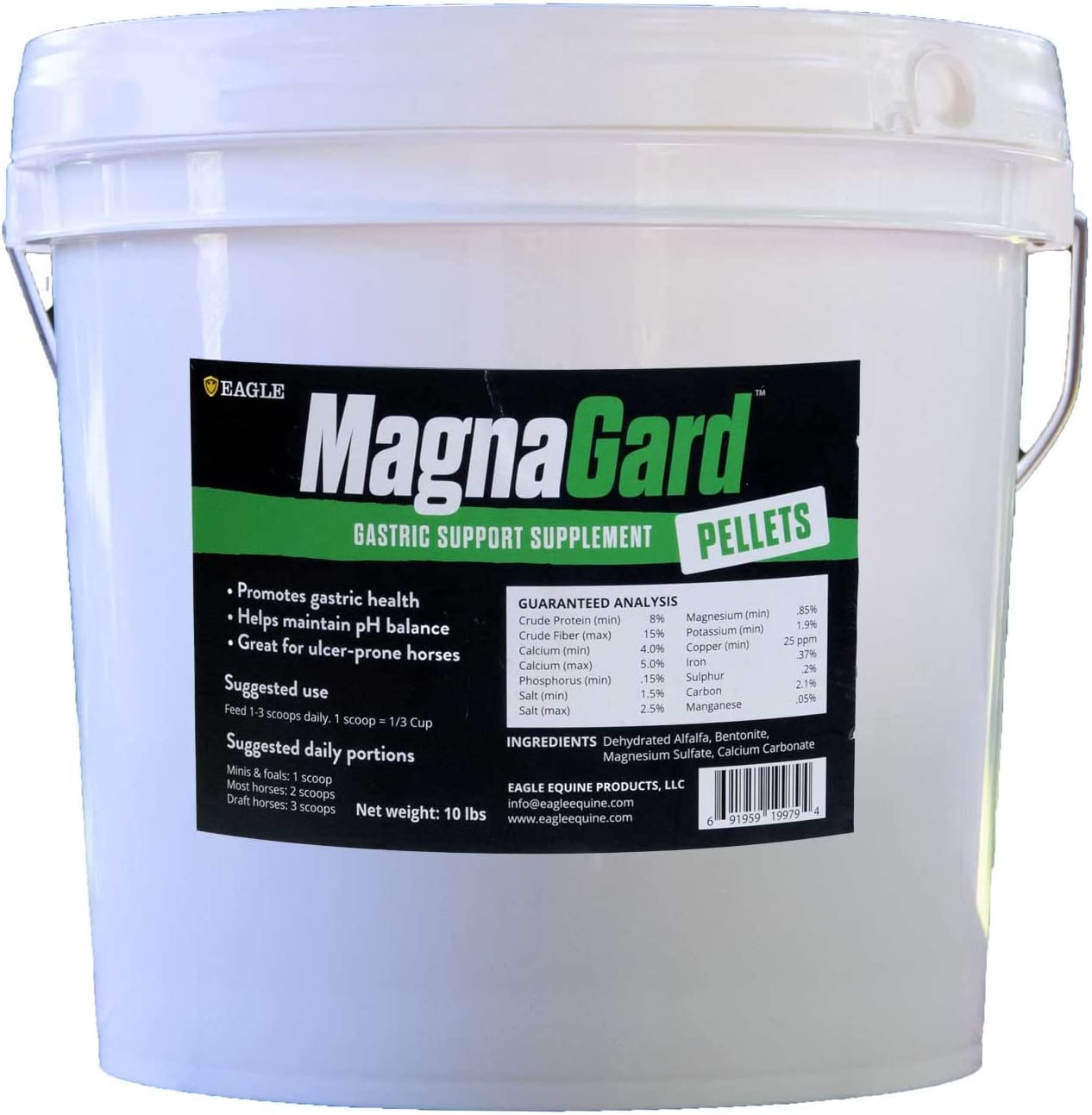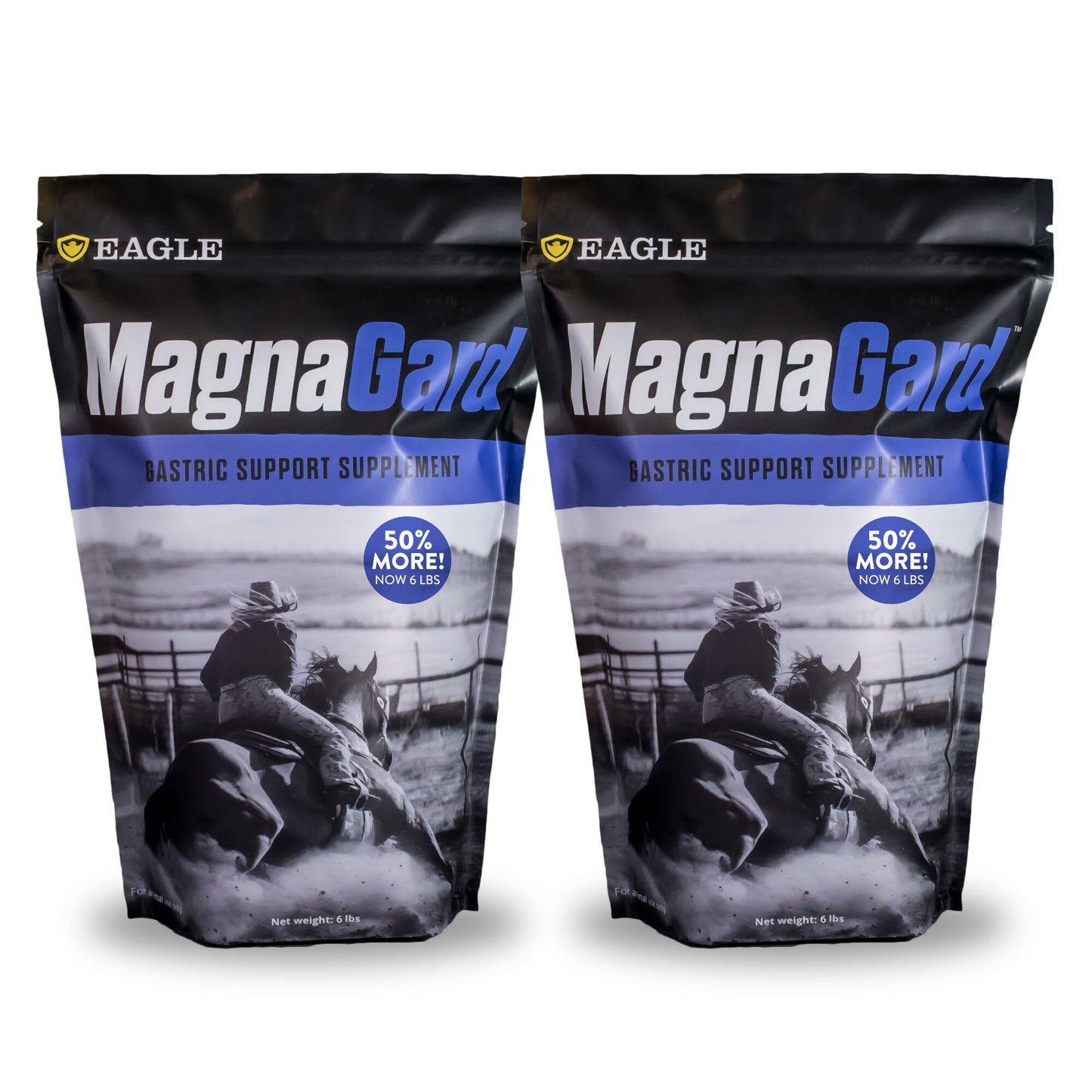 MagnaGard Gastric Support Supplement for Horses
Magna paste
Love the product..if my mare shows symptoms I paste her with your product. She's back to normal hour or so later
Very effective
I put all 4 of my barrel horses and prospects that I'm riding on MagnaGard. Their demeanor has become very calm, they haul better and perform better, despite the gastric support products I used previously. Worth the money!
Works
My horse is often ulcery especially when going to shows. I have found that when he is on the MagnaGuard he is much more comfortable and does not act ulcery. I am planning to give it to my other horse also.
MagnaGard Gastric Support Supplement for Horses