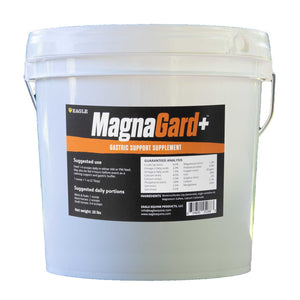 Doo
It's was recommended to me. Because my Barn owner had good luck with higher energy horses and show horses. I feel that my horse is doing better. But time will tell after I get him scoped at a later date. Figured I would give it 60 days. And have my horse checked for ulcers.
Great affordable equine ulcer product
I use the powdered form of MagnaGard plus with a little water or oil on alfalfa pellets for a horse that is ulcer prone. She has gone thru the vet recommended protocol and this product has helped her maintain her gut health. Thank you! PS the only problem I had was the shipping..box broke and the tub was in bad shape by the time I got it…it was salvageable though.
Great product
Have used for a few years now different horse through that time. Great results and have friends loving the paste they use that at all travels and races. Thank you
Great product for reducing stomach and hindgut acid
As the owner and manager of 2 horse-based businesses, I own 28 horses from foals to 28 years old. I need a product that is affordable, palatable, and easy to feed! MagnaGard+ has helped my horses and my budget, I highly recommend this product.
Great Supplement & Great Customer Service
I have used this supplement for over a year now. My guy is an easy keep that has had some gut issues. With this supplement I find him to be happy and cleans it right up! I truly believe it helps him during any times of stress or when we travel! I also use the travel paste and love it for him! And the customer service is fantastic-always quick to reply and handle all my needs or concerns!