Eagle Equine Products
Regular price
$67.99 USD
Sale price
$49.99 USD
Unit price
per
Sale
Sold out
Includes: 6 lb bag of MagnaGard Plus Powder (50-Day supply) and two tubes of MagnaGard Pre-Performance Paste (each tube is a single use).
Use the MagnaGard Plus powder daily for prevention and maintenance and use the MagnaGard Paste before hauling, shows, or a trail ride.
MagnaGard Gastric Support Supplement:
 ✅ Helps ulcer-prone and colicky horses
 ✅ Naturally effective ingredients
 ✅ Veterinarian recommended
 ✅ Satisfaction Guarantee

Why try MagnaGard?
Your horse is cinchy, sensitive to the touch, or otherwise showing symptoms of ulcers
Your horse colics on a regular basis
Your horse has loose stool or diarrhea
You want a natural gut supplement that helps prevent these kinds of problems
What's the difference between MagnaGard and MagnaGard Plus?
MagnaGard Plus has all the benefits of a healthy gut as MagnaGard AND the Plus also has camelina oil added to it, which provides a number of benefits to horses including:
Provides essential fatty acids and a 2:1:1 ratio of omega-3, omega-1, and omega-9
Provides important antioxidants including vitamin E
Improves coat sheen
Improves bone structure
Provides additional ulcer relief and prevention
Acts as an anti-inflammatory
MagnaGard Pre-Performance Paste helps keep horses calm and performing well when trailering or competing. It provides gastric support and helps keep their tummies happy.
Calms stressed horses
Soothes gastric discomfort
Provides vital electrolytes
All natural, show safe
Perfect to use before trailering, showing, or other stressful situations
"This has been a miracle on my nervous, fretful, high energy gelding. I won't go to a horse show without it." -Amazon Customer
"I have a couple of horses that act up for the farrier. Just gave a tube about 1 hour prior to trimming. Horse was totally calm." -Barbara
"MagnaGard really helped my nervous and hard keeper mare to become a WINNER!" -Trinna
"I'm very impressed so far and this product is way cheaper than Omeprazole." -Audrey
-------
MagnaGard Paste Ingredients and Mineral Analysis
Water, bentonite, salt, peppermint essential oil
Guaranteed Analysis
Calcium: 4.0-5.0%
Salt: 2.5-3.5%
Magnesium: 0.8%
Potassium: 0.7%
Sulphur: .08%
Phosphorus: .07%
Carbon: 2.1%
Iron: .39%
Manganese: .04%
Copper: .002%
MagnaGard Plus Ingredients and Mineral Analysis
Ingredients: Bentonite, Virgin Camelina Oil, Magnesium Sulfate, Calcium Carbonate 
Bentonite – Created by ancient volcanic ash, it naturally contains more than 50 beneficial minerals and trace minerals. It's naturally alkaline with a pH around 9.0, is a known toxin binder, and helps promote a healthy gut.

Camelina Oil - 

Provides essential fatty acids and a 2:1:1 ratio of omega-3, omega-1, and omega-9. It also provides important antioxidants including vitamin E and can help improve coat sheen.

Magnesium Sulfate – A natural calmer. Important for nerve and muscle health in horse.

Calcium Carbonate – Most horses aren't getting enough calcium in their diet. MagnaGard is a great source of calcium and helps ensure bone and muscle health, as well as proper enzyme regulation.
Guaranteed Analysis
Calcium: 4.5-5.5%
Salt: 2.5-3.5%
Magnesium: 1.3%
Potassium: 0.7%
Sulphur: .08%
Phosphorus: .07%
Carbon: 2.1%
Iron: .39%
Manganese: .04%
Copper: .002%
Crude Fat: 4.0%
Omega-3 Fatty Acids: 2.0%
Omega-6 Fatty Acids: 1.0%
Amount per serving
Calcium: 2,520 mg
Salt: 1,400 mg
Magnesium: 728 mg
Potassium: 448 mg
Phosphorus: 220 mg
Copper: 2 mg
Iron: 218 mg
Sulphur: 112 mg
Carbon: 1,176 mg
Manganese: 28 mg
Share
View full details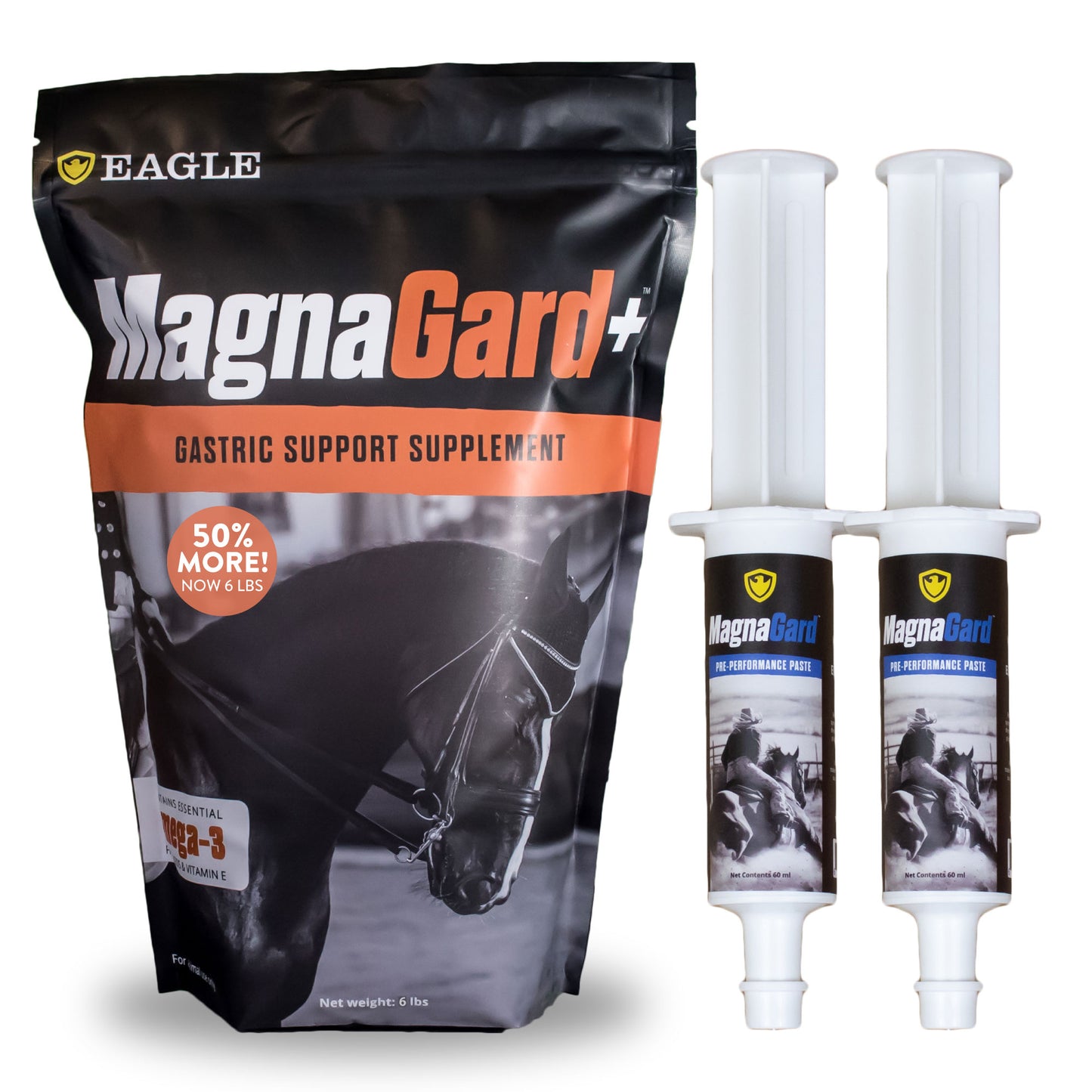 game changer
My OTTB's attitude has improved, and he gained the weight that he needed.
Surprised
I've used MagnaGard supplement for a couple yrs on my mare. I'd stopped for a while when I'd been using 2 other supplements for arthritis and joint issues. She had gotten stiffer so one day I gave her one of the tubes. I was surprised that she suddenly moved a little more freely so I began using the product daily again, along with other supplements. They can't tell u if it's helping but I'm continuing it to see what happens.